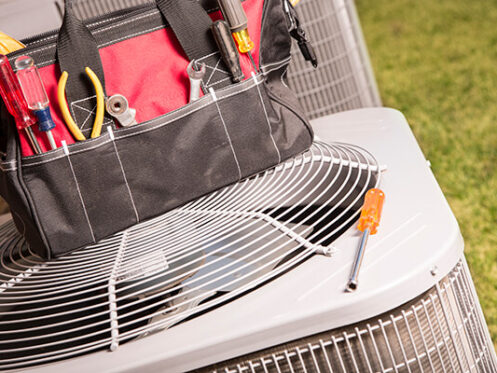 Amidst the scorching heat in Mesa, Arizona, ensuring your home has reliable air conditioning is a top priority. That said, if it's time for a new installation, you probably have some questions about what system to choose, energy efficiency ratings, and, of course, pricing details.
To provide some peace of mind around the process, in this blog, we'll walk you through what to expect during a new AC installation in Mesa:
In-home assessment
Choosing the right AC system
The AC installation process
We'll also share information about financing options and the benefits of upgrading to a new AC system.
Let's get into it!
---
Want a free estimate for a new AC?
Call Rusty's AC & Heating at (480) 631-4244 or click below to schedule an estimate for a new AC installation. As one of Mesa's top-rated HVAC contractors,  we're committed to providing 5-star service that leaves you glad you hired us! When you choose us, you'll get the best pricing, professional workmanship, and a guarantee of 100% satisfaction. 
---
Benefits of Installing a New AC System
Investing in a new AC installation for your Mesa home comes with a range of benefits that enhance your comfort, energy efficiency, and overall well-being:
Improved Energy Efficiency:

Newer AC units are designed with advanced technology that significantly improves energy efficiency. This translates to lower utility bills while keeping your home comfortably cool. 

Enhanced Comfort:

Modern AC systems offer more precise temperature control, better humidity regulation, and quieter operation. This means you'll enjoy consistent comfort without the bothersome noise associated with older units.

Reduced Repairs:

New systems are less likely to experience breakdowns and require frequent repairs, saving you money on maintenance and unexpected repair costs.

Better Indoor Air Quality:

New AC units often come with improved filtration systems that can help remove dust, allergens, and pollutants from the air, creating a healthier indoor environment.

Eco-Friendly Operation:

Energy-efficient AC units consume less energy, which reduces your carbon footprint and contributes to a more sustainable future.
In-Home Assessment 
Your AC installation begins with an in-home assessment and consultation. The certified technicians at Rusty's will visit your Mesa home to evaluate your current cooling system and understand your comfort needs. This involves inspecting the size of your home, its layout, insulation, and any existing ductwork. These factors are critical in determining the appropriate size and capacity of the new air conditioning system needed to efficiently cool your home.
During the consultation, you'll have the opportunity to discuss your preferences and any specific requirements you have for your new AC unit. Our technicians will provide recommendations based on your needs, budget, and the latest energy-efficient options available. At Rusty's AC & Heating, we believe in transparency, so we'll provide you with a detailed estimate that includes the cost of equipment, installation, and any additional work required.
Need financing assistance? We have convenient financing options with fast decision times and competitive rates.
Choosing the Right AC System
Once the assessment and consultation are complete, the next step is choosing the right AC system for your Mesa home. With advancements in technology, there are various options available, each with its own set of features and benefits. Our knowledgeable technicians will guide you through the options, explaining the pros and cons of different models, energy efficiency ratings, and the level of cooling performance you can expect.
At Rusty's AC & Heating, we prioritize energy efficiency to help you save on utility bills while reducing your environmental impact. We'll recommend systems with high SEER (Seasonal Energy Efficiency Ratio) ratings, which indicate how efficiently the unit converts electricity into cooling power. This not only benefits your wallet but also contributes to a greener environment.
We also value our customer's budgets, which means we'll provide your most cost-effective options. As you'll see in our many 5-star reviews, customers often thank us for having the best pricing in town!
The AC Installation Process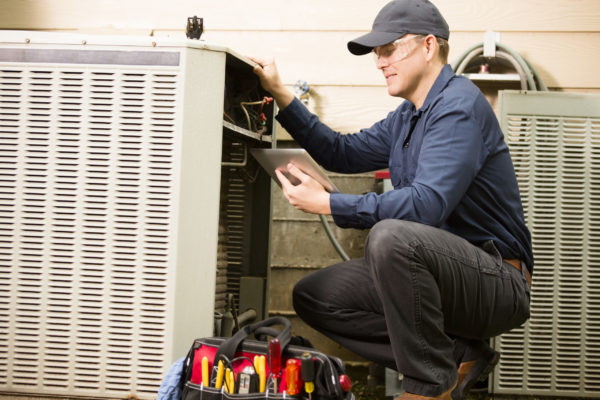 Once you've signed off on the estimate, we'll schedule a convenient day and time for your new AC installation. We know your time is valuable, you can relax knowing our professional technicians will arrive on time and with the necessary equipment and tools to carry out the installation efficiently and professionally.
The installation process involves several key steps:
Removal of Old Equipment:

If you're replacing an existing AC unit, our technicians will carefully remove the old equipment and dispose of it properly. This ensures a clean slate for the new installation.

Preparation of the Area:

Our team will prepare the designated area for the new AC unit. This might involve clearing space, ensuring proper ventilation, and making any necessary adjustments to accommodate the new system.

Installation of the New Unit:

The new AC unit will be installed according to manufacturer specifications and industry standards. This includes connecting the unit to the ductwork, securing it properly, and ensuring all electrical connections are safe and secure.

Ductwork and Insulation:

If required, our technicians will inspect and, if necessary, repair or replace the ductwork and insulation. Properly functioning ducts are essential for efficient airflow and even cooling distribution throughout your home.

Testing and Calibration:

Once the installation is complete, our technicians will thoroughly test the system to ensure it's functioning correctly. This involves checking for any leaks, verifying the thermostat settings, and calibrating the system for optimal performance.
At Rusty's, we always want to hear from customers about their experience, so once your AC installation is finished, we'd love your feedback. And if you have any questions, we're just a phone call away. 
Protecting Your New AC with Maintenance
Regular maintenance is crucial to protect your new AC installation. By scheduling routine upkeep, you can catch potential issues early and prevent costly repairs. This involves tasks like replacing air filters, cleaning coils, and checking refrigerant levels. Maintenance boosts energy efficiency, maintains air quality, and extends your AC's lifespan. Yearly professional check-ups are wise to ensure long-term, reliable cooling performance and safeguard your investment. 
---
Get a free AC installation quote from Rusty's AC and Heating.
As Mesa's top-rated HVAC experts, we bring you exceptional service and reliable AC installations. Our certified technicians specialize in energy-efficient solutions, offering transparent pricing and a FREE AC installation estimate. Beat the heat today by calling us at (480) 631-4244 to schedule your estimate, or click below to request through our website.